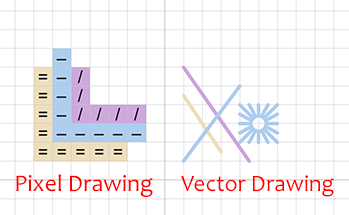 Finally, Backstitch is here!
StitchSketch ver 2.0 which supports Backstitch and Fractional Stitch is on its way!
It will be available in a week or so.
It is probably kind of tricky and confusing using the new tool as the way we treat them (or draw them) is different from what we draw pixels right now.
Please read the Ver. 2.00 release notes to learn how to draw the vector graphics and more details about the new features!

StitchSketch ver 2.0 Release Notes [StitchSketch_RN_200.pdf (655 KB)]
Please note -
Only the FULL version
(paid version) supports the vector graphics.
Bug fixes
There are many bug fixed/improvement in this version.
A single cell wasn't able to be selected

"Selection" was not finished before operations such as file save.

PDF: Symbols more than one cell wasn't drawn if it is beyond one page

A "Right Bottom" placing button didn't work

Symbol selection dialog box - the default size of some symbols are wrong

"White" wasn't selectable in the color dialog box

Some handling of touch event was not good, which sometimes caused unnecessary drawing

In Knitting mode, changing color could lose the color ID

Undo/Redo was not updating the color bar

When cropped, the chart size in the PDF was wrong

Layout/Menu fixed for iPhone vertical layout

Undo/Redo operation got better

The "Chart Information" page's scroll bar is now visible