StitchSketch ver 1.04 now available at iTunes App Store!
Here is the list of changes in ver 1.04. (Some screenshots are below)
I've been working hard to make StitchSketch a useful design tool for craft designer - so hopefully this version is getting closer to that!
NEW features (Major)
For designing knitting pattern, knitting Symbols (JIS Amizu Kigou) are now provided

Maximum chart size is now increased to 250 x 250
One important note: Even though you can edit 250 x 250 size, displaying it in zoom out could be very slow (sluggish). Zooming in should be OK.

Now support Dropbox to save a chart.

Color Charts (palette) are now available for DMC®, DFT, COSMO, Delica, Toho Best, Perler Beads®

More options for creating a PDF - a cell size, multiple pages, etc.

NEW features (Minor)
"Color Mode" is provided to switch a mode between editing colors and editing symbols.

"Rate App" menu item is in config menu - Please rate StitchSketch!

"StitchSketch" home page menu item is in a config menu

"Canvas Resize" tool

"Crop to selection" tool

When opening a file from email/URL/cloud, It is going to use the source file name. If it exists on local, it adds numbering.

"count/10 cm" unit for a "count per unit" field

Displaying rulers on bottom and right (iPad only)

Displaying a Center Mark in Edit screen and PDF

PDF Generation Options:


A cell size auto adjust (fit to one page)

Specifying a cell size, which means you can now print a chart in multiple pages

Cell drawing option (Fill only, Symbol only, Fill & Symbol)

Paper orientation auto select

Ruler's numbering ascending/descending option

Now it uses chart's file name instead of temporary file name - so saving a PDF to other places, it's much easier to know what file it is.


Import: "edit mode" is now can be on/off. By using "off", you can now import entire image. (Before, it was forced to cut square)

More gray scale for generic color palette

Icons refined and got a little bigger.

Color palette performance improved (much smoother)

File Open/Gallery


Sort by Name/Last Modified

Thumbnail now showing correct for non-square image


Displaying Finished Size in Chart Information/PDF

Symbol "\u2733" deplicated

PDF generation and Photo Conversion now using multithreading w/indicator for better UI handling

Now using "Arial" font for all symbol display

Bug Fixes:
When exporting, a "save" dialog box was shown twice - it's fixed.

Horizontal layout issue for iPhone/iPod touch now fixed
So, now the layout/menu/dialog box's look&feel a little bit changed.

Background color was not painted in PDF

Screenshots
Color Charts (Thread's Palette)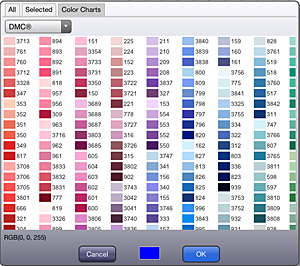 DMC®
Cosmo
Miyuki - Delica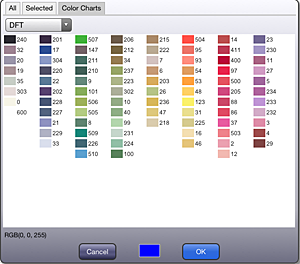 DFT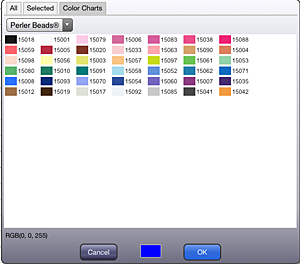 Perler Beads®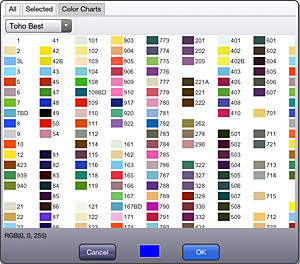 Toho Best
Knitting Symbols to create a knitting pattern.
Choose a kitting symbol, and then change the size of the symbol. You can on/off the "Purl" mark.
Some Reference regarding JIS knitting symbols: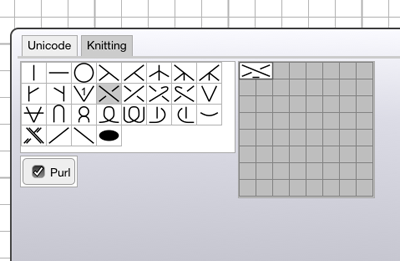 Color List page now display palette name and symbol type ("U" for Unicode, "K" for knitting)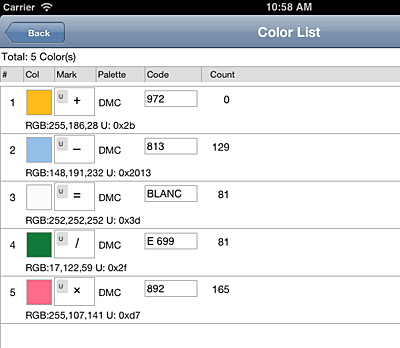 Chart Information page now calculate a finished size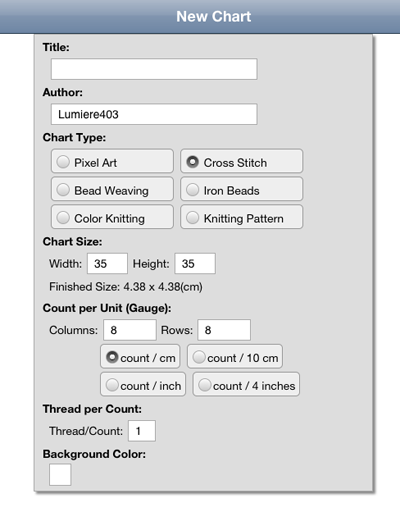 "Color Mode" is a tool to switch between "Color" editing mode and "Symbol" editing mode.
In Color Eeiting Mode, you can focus on colors (exiting mode) by choosing color from palettes, while Symbol Editing Mode is for editing symbol pattern like knitting pattern by choosing symbol.
"Rate this app" menu is provided so that you can easily rate StitchSketch.
Also a link to home page is there.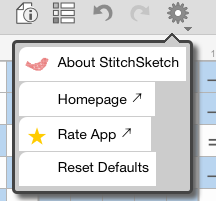 When generating a PDF, you have now more options.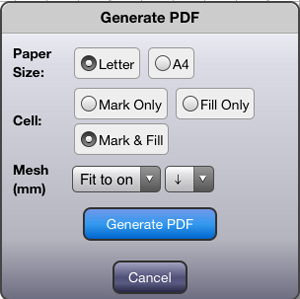 You can save a chart to Dropbox.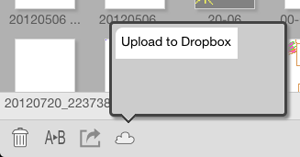 You can now sort the list: sort by file name (ascending order) or sort by last edit time-stamp (descending order)

You can now change a canvas size by "Canvas Size" tool or "Crop to selection" tool